Menu: Too many choices? Menu too big to swallow? Let Skip server you up a scram that has something from every dish in the menu. It will knock you into next week! $47.95 a la carte. $57.95 Egg whites only.
Narrator: Don't order the Skip's Scramble.  
From "Out on a Limb"
The Skip's Scramble is a breakfast platter of every available item on the menu at Skip Church's Bistro.
About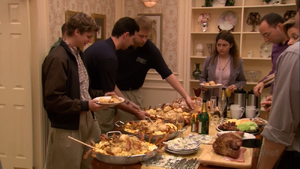 The platter was introduced when Michael and Sally ate breakfast on a date. Concurrently, Loretta was suing Skip Church's Bistro for making her fat as a side effect of eating too many Scrambles. She used Maggie Lizer as her attorney. ("Out on a Limb") It turned out Loretta was pregnant with Officer Carter and Officer Taylor's baby. ("Hand to God")
G.O.B. Bluth and his future Wife apparently each ate a Skip's Scramble as one of their escalating dares which eventually leads to their marriage. ("Out on a Limb")
The Bluth family orders several Skip's Scrambles to celebrate George's exoneration. ("Development Arrested")
Images
Community content is available under
CC-BY-SA
unless otherwise noted.