Steve Holt! is portrayed by Justin Grant Wade and appears in 15 episodes of Arrested Development over all five seasons.
About
Steve Holt a third-year senior and football star George Michael and Maeby's high school crush. Often described as a "moron jock", he is known for his catch phrase "Steve Holt!", shouted while pumping his fists in the air.
Character history
Season One
Maeby, like many girls, had a crush on Steve Holt. When she heard he was trying out for the male lead in Much Ado About Nothing she auditioned opposite. However, the roles got switched around by Tobias's poor directing and George Michael almost ended up kissing Steve Holt. In the end, Maeby did kiss him but because he was wearing Lindsay's perfume and dress she did not enjoy it. ("Bringing Up Buster") Steve later attends the Diversity Dance at his high school and acts as a bouncer until he asks Maeby to dance. She shouts "Steve Holt!" upon his offer. ("Shock and Aww")
Season Two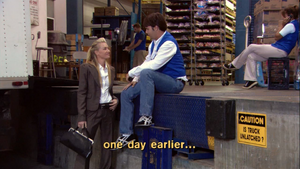 Steve Holt becomes a gift-basket delivery boy and Maeby, once again attracted to him, begins ordering many baskets to get close to him. Lindsay, in her open relationship, is also attracted to him so Maeby sabotages her mother's flirtation by telling Steve that Lindsay is a transvestite. ("Sad Sack") Steve returns briefly to deliver bag-and-boil dinners to George in the model home's attic. ("Burning Love")
When George Michael expresses interest in running for senior class president, Michael enlists G.O.B.'s help to play dirty to de-throne Steve, who has held the post for the past three years. G.O.B. makes an attack video, pointing out that Steve Holt doesn't know who his father is. Steve's video, which was made by Ann, shows regret about not knowing his father. Steve wins the election but declines the position so he can spend time looking for his real father. In a teaser, it is revealed that Steve's real father is G.O.B.. ("The Immaculate Election")
Season Three
In his pursuit to be reunited with his true father, Steve uses an organization called S.A.D.. G.O.B. arrives, looking for George, Sr. and Steve arrives, not remembering that G.O.B. is his father. The two spend the day doing brother-and-brother activities before G.O.B. realizes who Steve is and flees. ("The Cabin Show")
G.O.B. tries to be a better father than George was to him, so he spends more time with Steve Holt bonding. G.O.B. continues to be reluctant to be a father and when Steve shows an interest in magic during his Free Chicken Illusion, G.O.B. sabotages George's escape plans for his own chance to escape from having a meaningful relationship. ("For British Eyes Only")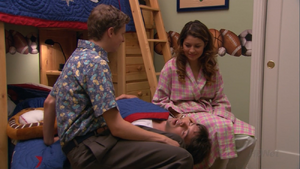 George Michael discovers that Steve is G.O.B.'s son and therefore Maeby's cousin. She and Steve are dating and are about ready to take the next step, so at school George Michael reveals the family tie to Steve. George Michael also warns Maeby, but Maeby called things off due to her own personal fears. Rather than tell Steve no, she roofies him and tries to make him think she raped him.("Forget-Me-Now")
G.O.B. signs up for a Father-Son Triathlon at the Church and State Fair, but dumps the responsibilities on Michael. Michael, trying to prove to Rita that he is not a "pussy", and Steve train incredibly hard for the race and take Oxycontin he got from his coach (being unaware that it is an illegal drug). The race turns out to be severely easy but the duo win. Steve tells Michael that he just pretended it was going to be difficult to spend fake father-and-son time with Michael. ("Notapusy")
George stirs up deep sibling rivalry between G.O.B. and Michael so G.O.B. opens a Banana Shack opposite the Banana Stand on Oceanside Wharf. The two stands compete ruthlessly until the brothers realize what has happened and decide to turn their efforts on their father. ("Making a Stand")
Season Four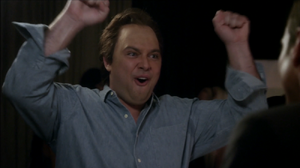 Years later, a lonely G.O.B. calls Steve to catch up. He talks to Steve for an hour at the bar before recognizing the balding man is his son. Steve offers his out of work father a job at his pest control business, but G.O.B. blows him off to hang out with Mark Cherry instead. ("Colony Collapse") G.O.B. later calls Steve to complain about how he lost his new friends but hangs up after Steve stands up to him. ("A New Attitude") Maeby hires Steve to bug bomb the model home, and she does not recognize him. ("Señoritis")
Season Five
Steve prepares to fumigate the model home and talks to Michael, who does not recognize him but notices how much he knows about the Bluth family. ("Family Leave") A similar interaction happens with Maeby and George Michael the following day, and when he finally reveals who he is the three cousins travel to Mexico in the stair car. ("Self-Deportation")
Quotes
Trivia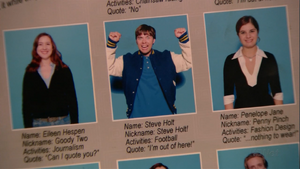 Images
→ See 64 pictures of Steve Holt at Images of Steve Holt.
Videos
Appearances