Ted is a sulky and opinionated employee at the Bluth Company.
Character history
Season one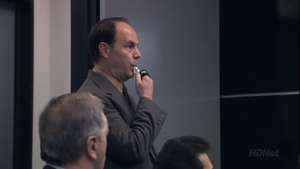 Ted asks Lindsay, who is filling in for Kitty, about ordering a pizza on a working Saturday. Lindsay tells the staff that she is taking them out to lunch. The employees board a tour bus intended for Lupe's family and are taken to Catalina island instead, where they roam around lost until a shepherd finds them and loads them in his trailer. ("Staff Infection")
Ted informs Michael that George is calling from prison about Michael's soul lemon grove deal, then blows a whistle. ("Whistler's Mother") Ted shows the Bluth Company office a video of Girls with Low Self-Esteem featuring his daughter Caitlin on Bring Your Daughter To Work Day. ("Not Without My Daughter")
Season two
After G.O.B. threatens all Bluth Company employees to not flirt with his sister, Lindsay attempts to flirt with Ted and he runs away. When fired, he asks Michael if she's still around. ("Afternoon Delight")
Ted suggests moving floors to save some money, but Michael resists. Tobias later takes Ted's advice and saves some money for the company, and Ted celebrates. ("Sword of Destiny")
Season three
Ted is frightened that George is holding another Black Friday when all the computers go missing. He is later happy when Nellie pays everyone's paychecks and buys them all new computers. ("Family Ties") Ted celebrates by dressing as Tom Cruise when the Bluth Company is upgraded to "Risky" by Jim Cramer. ("Development Arrested")
Images
→ See 10 pictures of Ted at Images of Ted.
Appearances