Tobias Fünke has had several costumes and alter-egos.
Blue Man Group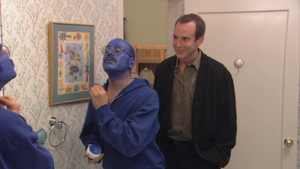 Main article: Blue Man Group
Attempting to join the Blue Man Group as a standby understudy and, as a consequence, spending part of the second season covered in blue make-up.
Mrs. Featherbottom
Main article: Mrs. Featherbottom
In a move inspired by the film Mrs. Doubtfire, Tobias masquerades as a British housekeeper/nanny named "Mrs. Featherbottom" in an attempt to spend time with his wife and daughter after his wife Lindsay Bluth Fünke kicks him out of the model house. While the disguise fools no one, the Bluth family humors him since this gets the housework done.
Others
Tobias has dressed up as other characters in his attempt to get a job as an actor and win the affection of his family.