Tony Hale is the American TV, film, and stage actor who played Buster Bluth in Arrested Development.
Bio
Tony was born in New York but was raised in Florida where he was introduced to the theatre. He studied journalism in Arizona and communications in Virginia before moving to New York. He took several small roles in TV shows and movies before landing the role of Buster Bluth.
Since Arrested Development went off the air in 2006, Tony has appeared in more films, including Stranger Than Fiction and The Informant! as well as several TV shows, including Chuck, Community, Numb3rs, and CTRL. In 2012, Hale starred in the drama comedy Not That Funny. He also guest starred on NBC's long-running show Law & Order: SVU as Rick Simms, a teacher who gets fired from his job after being accused of inappropriate behavior with a student.
In 2012, Hale was cast in the HBO comedy Veep as Gary Walsh, the personal assistant to Vice President Selina Meyer (portrayed by Julia Louis-Dreyfus). Tony won a total of two Primetime Emmy Award for Outstanding Supporting Actor in a Comedy Series for his work in the show; these were his first Emmy awards. Veep's final episode aired May 12, 2019, which concluded it's seventh season.
Hale is married to Emmy Award-winning make-up artist Martel Thompson. They have one daughter and currently reside in Los Angeles.
Tony and Martel Thompson Hale
→ See 166 pictures of Tony Hale at Images of Tony Hale.
Awards
Videos
→ Watch more videos of Tony Hale at Videos of Tony Hale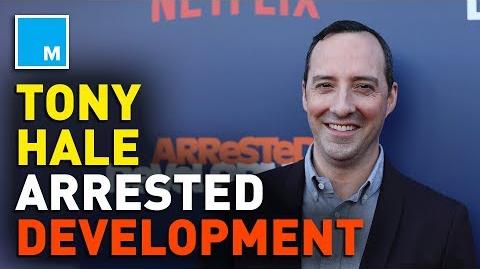 See also