Season Four introduces several compelling scenarios and suspects for the disappearance of Lucille 2. Her whereabouts and statuts were unknown throughout Season Five until the very end.
The situation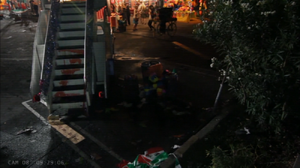 After the blow-back of the Mongolian horde at Cinco de Cuatro, Lucille Austero's body is seen at the bottom of the stair car on blood splashes. (4x10 — "Queen B.") Her body then disappears. Buster witnesses this, and touches the blood on the stair car. (4x14 — "Off the Hook")
In the days after Cinco, the police question George Bluth about her 'disappearance.' (4x6 — "Double Crossers") Michael then receives a phone call from Lucille 2 but does not listen to what she says. He is questioned by Lt. Toddler and gives evasive answers. (5x1 — "Family Leave") On the advice of Michael, Buster turns himself into the police as a missing person but is interrogated for Lucille 2's disappearance. He tells them everything that happened and is arrested for tampering with evidence ("Everyone Gets Atrophy") but the news reports it as an arrest for 'murder.' (4x15 — "Blockheads")
Bluth Family suspects
Buster — On Cinco, Buster was angry with Lucille Austero when she confessed that she purposely gave him sugary juice the night before his mother's maritime law trial, so he would be hungover the next day and not testify as a witness at the trial. (Buster missing the trial was the reason that his mother rejected his visits all through season 4.) Buster had thought it was all his fault, so he was surprised and angry when Lucille 2 said she tricked him on purpose. Drunk on Donkey Punch, Buster was aggressive enough to knock Herbert Love into a coma. Although he seemed surprised to see the blood on the stair car, he doesn't often drink alcohol and could have been operating in a blackout. He leaves his fingerprints in the blood and is later arrested by the police for her murder, while living in her penthouse. (4x14 — "Off the Hook") (4x15 — "Blockheads") In the aftermath of her disappearance, including his trial, he kept claiming his innocence.

Michael — Michael borrowed $700,000 from Lucille 2 in May 2008 to keep the Michael B. Company afloat during the real estate crisis. (4x1 — "Flight of the Phoenix") Argyle called in the debt so he and Tobias could put on Fantastic 4: An Action Musical. (4x9 — "Smashed") Michael attempted to seduce Lucille 2 in order to get an extension on the loan but she rejected his advances. (4x15 — "Blockheads") Michael later returns to the model home late on the night of Cinco wearing a yellow banana stand shirt and deeply ashamed of something. G.O.B. forces him to take a Forget-Me-Now and he forgets what happened. (4x11 — "A New Attitude")

Lucille Bluth — The Lucilles had a long time feud that led Lucille Bluth to turn the RMS Queen Mary around to insult Lucille Austero, causing the seaward matriarch to capsize. Lucille Austero was the only one present at Lucille Bluth's trial and her testimony did not paint Lucille Bluth, who was ultimately sent to prison for 3–5 years, in a good light. Although Tobias helped Lucille Bluth have a breakthrough during her therapy at Austerity, Lucille said she wanted to "pay Lucille [Austero] back", which could have been a threat. Oscar had also been 'stolen' by Lucille Austero, deeply angering Lucille. (4x10 — "Queen B.")

Tobias — Argyle and Tobias borrowed $700,000 to fund the horrible Fantastic 4: An Action Musical. On the night of the performance at Cinco de Cuatro Lucille 2 found DeBrie, a patient of Austerity in a pile of garbage and threatened to send Tobias, charged with being a child predator, back to prison. (4x9 — "Smashed")

George — George was a proponent for building the wall between the US and Mexico, hoping it would make him a lot of money. He even went to so far to bribe Herbert Love $50,000 to support the wall, a political position Lucille 2 opposed during her own Congressional run. (4x6 — "Double Crossers")

Lindsay — Lucille 2 betrayed Lindsay by using pictures of Lindsay and Herbert Love in compromising situations to her political advantage and chose Sally Sitwell to be her campaign manager. Lindsay then took Herbert's place as Republican candidate against Lucille 2 in the congressional run. (4x8 — "Red Hairing")

G.O.B. / Mongolian Horde — G.O.B. owed money to the Mongol horde and either could have attempted to retrieve it from Lucille 2, the owner of the Austero Bluth Company. (4x15 — "Blockheads")

Maeby — Maeby borrowed a large sum of money from Lucille 2 to found Fakeblock. Lucille 2 also saw Maeby and her adopted son Perfecto together in bed, an act which eventually got Maeby arrested for being a child predator. (4x12 — "Señoritis")

George Michael — Maeby borrowed a large sum of money to found Fakeblock, a software company built on a fleeting lie. However, it should be noted that George Michael has stated he has no idea who Lucille Austero is and has never encountered her. (4x15 — "Blockheads")

Oscar — Oscar was privy to his twin brother's plans for the US/Mexico wall and became Lucille Austero's lover. He was tired of being wronged by his brother and was dumped by Lucille Bluth on the night of Cinco de Cuatro. He could have assisted Lucille Austero in her escape to prove his devotion to her, or could have murdered her to prove his devotion to her rival Lucille Bluth. (4x10 — "Queen B.")
Possible accidental suicide or fake
One theory is that Lucille Austero's chronic vertigo caused her to accidentally fall down the staircar.
Or, she could have faked her death to get out of a debt. She owned the Austero Bluth Company during the 2007 real estate market crisis and could have been in deep debt.
Other suspects
Steve Holt — He would do anything to impress his absentee father, G.O.B.  Is it merely a coincidence that he and his father are both exterminators?  (Although G.O.B. never shows up to help Steve with the extermination business, he often, albeit accidentally, kills rabbits, mice, and doves.)
Other evidence
The truth revealed
It is only during the On the next... Arrested Development segment of the Season Five finale The Fallout that the truth is finally revealed.
At what was supposed to be the unveiling of the prototype of the wall, having done a magic trick in which he was supposedly encased in concrete, GOB had it destroyed to retrieve the (according to Lucille, unsettlingly lifelike) mannequin wearing his mask despite Buster's protests.
The mannequin fell out of the wall after the workers did a couple of hits. After GOB retrieved his mask, the entire family (including Lindsay, but without Michael and George Michael) and a cop surrounded the mannequin, which resembled Lucille 2, and was dressed exactly like she was on the night of Cinco de Cuatro. After the cop confirmed the mannequin was in fact a corpse, Buster copped to having murdered Lucille 2.
Thanks to the evidence presented during Buster's trial and his own slips of the tongue at the unveiling of the prototype of the wall, it is easy to piece together why and how Buster murdered his former lover. The reason for the murder is confirmed to be as told above, and the modus operandi was by pushing Lucille 2 down the stairs of the Staircar. After a while, and especially after walking free from the trial, Buster tried to hide the body by encasing it in the wall, not realizing the bit of wall he used was meant to be demolished.